Featured Advertiser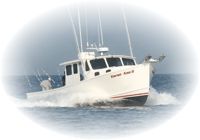 Karen Ann II
Delaware Charter Boat Fishing
Capt. Adam Nowalsky
Daytime Phone: (609) 618-0366
Evening Phone: (609) 652-1633
captadam@karenannii.com
Advertising With FishingTheUSA.com
This is our free Delaware fishing links page, for premium website listings, please go to our advertising page
Featured Advertiser
Affordable Taxidermy
Freshwater and Saltwater Fish Taxidermy Worldwide!
Call: 1-800-338-7926
561-601-3565
FAX: 561-968-4758
Fishing Websites Marketing Expert, Sue Strand - Proven Results!! I know how to make your website show up in the face of those customers looking for your business. Most likely, you are frustrated with your competition's ability to be able to pull up on the internet and wonder why your site isn't. I know this because all of my clients were in the same spot you are now, but no longer, most are enjoying record breaking years, year after year
If you would like to have your link included below, please email freelink@fishingtheusa.com
Delaware Sportfishing - Choose from either the "Wild Goose" or "Horsin'Around Too" for a memorable fishing adventure.
Wave Dancer - Capt. Mike Matarese, Charter fishing boat North Shore Marina, Indian River Inlet, Delaware. Delaware Bay and Atlantic Ocean sportfishing.
Additional Delaware Fishing Websites