Featured Advertiser
For Fishing Reservations Call (808) 987-7312 or 808/987-7311
legendsfhawaii@aol.com or vidal@aloha.net
Advertising With FishingTheUSA.com
This is our free Hawaii fishing links page, for premium website listings, please go to our advertising page
Featured Advertiser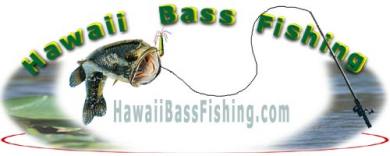 Hawaii Bass Fishing Guides
stan@hawaiibassfishing.com

Phone Number: (808) 352-6197
http://www.hawaiibassfishing.com/
Fishing Websites Marketing Expert, Sue Strand - Proven Results!! I know how to make your website show up in the face of those customers looking for your business. Most likely, you are frustrated with your competition's ability to be able to pull up on the internet and wonder why your site isn't. I know this because all of my clients were in the same spot you are now, but no longer, most are enjoying record breaking years, year after year
If you would like to have your link included below, please email freelink@fishingtheusa.com
Sportfish Hawaii - http://www.sportfishhawaii.com/
Offers charters in Kona, Maui, Oahu, Kauai and Midway. Tournament schedules and reports, weekly fishing reports, weather, species guides and articles.
Shoreline Fishing Hawaii - http://www.alternative-hawaii.com/bfh/index.html
Guided fishing services on Oahu and other Hawaiian Islands. Specializing in fly and light tackle fishing including bonefish and trevally.
Hawaii Fishing Guides - http://www.1fghp.com/ha/
Text listing of charters throughout the islands, plus related links.
Hana Pa'a Sportfishing Charters - http://www.fishkauai.com/home.html
Hawaiian sportfishing charters off Kauai, Hawaii. 38' Bertram targets marlin, tuna, mahi mahi, and ono.
Captain Don's Sportfishing - http://www.captaindonsfishing.com/
Private and shared charter fishing, snorkeling and whale watching trips.
Lahela Ocean Adventures - http://www.lahela-adventures.com/
Big game, sport, and bottom fishing charters from Kauai, Hawaii. Sight seeing and snorkeling also available.
True Blue Charters Sportfishing - http://www.kauai-fishing-charters.com/
Information on fishing trips for the inexperienced as well as the most seasoned of deep sea fishing enthusiasts.
Bone Fish Kauai - http://www.bonefishkauai.com/
Contact information and outline of Kauai sport fishing with guide Rob Arita, specializing in Hawaii fly fishing for bonefish.
Endless Summer Fishing Adventures - http://www.endlesssummerfishing.com/
Shoreline fishing pictures and infomation available with local guides, gear rental and torch light fishing adventure.
FishMaui.Com - http://www.fishmaui.com/
Maui fishing information and referrals for sportfishing boats.
Start Me Up Sportfishing - http://www.sportfishingmaui.com/
Private and shareboat maui fishing charters aboard a 42' Bertram sportfisher.
Reel Big Fish Maui, Inc. - http://reelbigfishmaui.com/
Retail tackle shop in Lahaina featuring rods, reels, Hawaiian trolling lures, shorefishing gear, marine electronics.
Deperado - Deep Sea Fishing - http://www.kaanapalisportfishing.com
Diver Dans sportfishing charters aboard the Desperado - a restored 31 ft. Bertram. Charters depart from Kaanapali Maui.
Aerial Sport Fishing Charters - http://www.aerialsportfishingcharters.com/index.html
Sport Fishing out of Lahaina harbor aboard the 37' Merrit, The No Problem, and the 36' Chris Craft, the Aerial III. Also offers sailing charters on the Scotch Mist.
Finest Kind Sport Fishing - http://www.fishingmaui.com/index.html
Expeditions departing from Lahaina harbor. Fleet includes a 31' Bertram, 33' Bertram, and a 37' Merrit.
Rascal Charters, Maalaea Maui - http://www.rascalcharters.com/
Fully outfitted 40 ft. Hatteras specifically designed for great Maui sport fishing. Departs from Maui's Maalaea harbor.
Ho'okela Sportfishing - http://www.mauibluewaterfishing.com/index.htm
35' Hatteras departing from Lahaina harbor. Targets marlin, mahi mahi, ono and other big game fish
Discounted fishin boat charters - http://www.hawaii-fishing.com
Discounted fishing charters offered through Barefoot's Hawaii Cashback Tours.
Inter Island Sportfishing - http://www.fish-hawaii.com/
Private and shared charters available daily: pictures, boat and services information, plus related links.
Chupu Charters - http://www.chupu.com/
Deep sea sport fishing charters the North Shore: trip details, rates, calendar, pictures, weather information, and related links.
Nervous Water Flyfishers - http://www.nervouswaterhawaii.com/
Sales and service of fresh and saltwater fly fishing equipment, and guided half and full day tours.
Hawaii Sportfishing - http://www.hicharters.com
Offers full, three-quarter and half day fishing charters for up to 6 persons departing from Kewalo Basin.
Meagan Sportsfishing - http://angelfire.com/biz2/capthank/index.htm
Fishing for marlin, tuna and shark aboard the Meagan II, out of Waianae Coast.
Reel Pleasure Sportfishing - http://www.reelpleasurehawaii.com/
Sportfishing in Kona, Kawaihae and the Kohala coast on the Big Island of Hawaii. Also whale watching tours available.
Kai Bear Sportfishing - http://www.angelfire.com/hi4/kaibearsportfishing/
Offer packages for the extreme fishermen or the beginners for deep sea fishing, whale watching, and sunset cruises off the coast of Kauai. Located in Nawilliwilli Harbor.
Kona Charter Skippers Assoc. INC - http://www.konabiggamefishing.com/
Pictures, boat information, contact details, and Kona game fishing contacts.
Hawaii Fishing and Marine Directory - http://www.hawaiifishing.com/
Fishing charters, tournaments, and reports for the Big Island.
Mauna Kea Divers - http://www.maunakeadivers.com/
Full service boat and activities charter offers information on scuba, snuba, snorkel, and guided fishing trips.
Hawaii Bass Fishing - http://www.hawaiibassfishing.com/
Details fishing cruise and guided excursion into the fresh water irrigation reservoir, Lake Wilson.
Sea Baby III - http://www.seababy3.com/
Boat charter available for Kona Coast, Hawaii. Lodging also available.
Legend Sportfishing - http://www.hawaii-bnb.com/legend.html
Fish the Kona Coast of Hawaii aboard the Legend 2, a 1999 35' Cabo Express.
West Maui Sports & Fishing Supply - http://www.maui.net/~wmauispt/
Fishing and sporting goods sales and rentals, including fishing charters, scuba diving and certification, and other beach needs.
Additional Hawaii Fishing Websites